Due to current Coronavirus concerns, activities normally scheduled during 2022 will be put on hold for the immediate future. Dates will be announced as we become aware of them.



To see a video by FOSA member (the late) Dr. Don Rankin on COVID-19, please click COVID-19.



HOME PAGE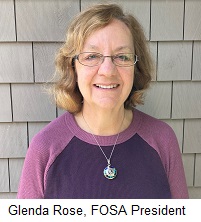 Friends of the Office of State Archaeology, Inc. (FOSA) is a volunteer not-for-profit organization formed in 1997. The organization was formed by people concerned about support for the Connecticut Office of State Archaeology (OSA), which has a minimal budget for staff other than the State Archaeologist's salary.

FOSA's mission is to enhance the efforts of OSA to help meet the numerous state-mandated responsibilities of the Office of State Archaeology and to enable the office to provide additional services to the state's towns, students, and other citizens.

FOSA meets these goals by:

> Developing and facilitating educational activities to increase public awareness of the OSA and archaeological issues in general.

> Encouraging participation by communities, institutions, corporations and individuals in supporting the mission of the OSA.

> Encouraging partnerships between OSA scientific research initiatives and local communities.

> Developing permanent sources of financial support and other public assistance for OSA efforts.


"The active participation of volunteer organizations, particularly FOSA, are critical to the ability of the Office of State Archaeology to accomplish its mission of preserving the rich archaeological heritage of the State of Connecticut. Their efforts are greatly appreciated."
- Dr. Sarah Sportman, CT State Archaeologist
For More Information
To learn more about the responsibilities of the Office of State Archaeology and how FOSA helps in this endeavor, please click the "About Us" link.


Meet Dr. Sarah Sportman
Dr. Sarah Sportman became Connecticut State Archaeologist on February 14, 2020, replacing the late Dr. Brian Jones. who passed away on July 4, 2019. For biographical information on Dr. Sportman and her work, on the "About Us" page, please click Sarah Sportman.


FOSA Brochure
To access a copy of the latest FOSA Brochure, for review or printing, please click Brochure.


Public Awareness
To read an article by Emeritus State Archaeologist Dr. Nicholas Bellantoni on the challenges facing archaeologists and archaeological sites, please click: Awareness Article.
Contact Us
For information or questions about the Friends of the Office of State Archaeology and its activities, please send us an email by clicking fosa.ct@gmail.com.
Join Us
To join the Friends of the Office of State Archaeology, or even just make a donation, please click Join Us / Donate.
---
. DID YOU KNOW...
These displays will change each day, with the entire group recycling at the start of the next month. If you can't wait, though, and want to see them all beginning with day-1, please click: DYK.
... AND ...

You can make a difference for FOSA, even if you're not a member, if you shop on Amazon.com. FOSA is a registered charity with Amazon's foundation, Amazon Smile. For qualified purchases, a portion of your purchase (.5%) will be donated to the Friends of the Office of State Archaeology, CT. You may register for this program at www.smile.amazon.com. Registration is free and you will pay the same purchase price for your items.
---
- - OF SPECIAL NOTE - -

ASC Collaboration
Beginning September, 2009, FOSA and the Archaeological Society of Connecticut (ASC) agreed to enter a closer association with each other, working collaboratively together in order to increase the public's awareness of Connecticut's archaeological past, in addition to our common aim of supporting the Office of State Archaeology.

While both organzations remain distinct, the presidents of each organization will be attending the other's Board meetings, members from each will be encouraged to attend the other's annual meetings, and charges for attendance at one organization's events will be the same for members of the other organization.

To link to the ASC web site, please click www.ctarchaeology.org/.
Back issues of the ASC Bulletins and Newsletters have been scanned and made available online. Both of these archives can be accessed by clicking ASC Archives.

In addition, to access online lectures sponsored by ASC, in item 27 of the "Selected You Tube Videos" page of our website, please click ASC Videos.


---

iCRV Collaboration
Beginning in late November, 2018, internet radio station iCRV ( internet Connecticut River Valley, accessible at http://www.icrvradio.com/ ) began discussions concerning the possibility of collaborating on a series of monthly radio shows, with the intent of highlighting the archaeological heritage of Connecticut and the efforts of OSA, FOSA and other archaeological groups to examine, understand and preserve it. This would be done under the general heading of "Connecticut Archaeology" on the iCRV website.

It was felt that this would be of benefit to both groups. FOSA personnel have been highlighted in previous iCRV shows, though these discussions have been 1-off's and not necessarily part of an overall theme.

Following approval of the concept by the FOSA Board of Directors, work is currently moving forward on determining subjects of each of the monthly shows, as well as venue and participants. Where possible, we'll try to include images of artifacts and the layout of the site(s) being discussed. Once the shows have been aired, they would be available in the iCRV archives for about 3 months, after which we'd migrate copies of them to the FOSA website for more permanent storage and access.

It's hoped that in this way, the profiles of both Connecticut archaeology and iCRV can be raised, to the betterment of all involved.

To access recordings of the shows which have been aired, and the tentative titles of upcoming shows, please click iCRV CT Arch Shows

For those not familiar with iCRV, the following documents have been made available for posting on the FOSA website:

> Click Introducing iCRV for information on the story of the radio and its mission.

> Click Things of Note for interesting tidbits of information on the station.

> Click Listener Info for information on the listener audience that the station attracts.

> Click Advertising Rates for information on the advertising rate packages used by iCRV as of May, 2018.
> Contact Information:
General Manager:
Dave Williams
Email:
david@icrvradio.com
Address:
108 Main Street
P.O. Box 585
Ivoryton, CT 06442
Studio Telephone:
860-526-iCRV (4278)
Mobile Telephone:
646-588-8302
---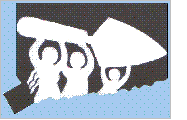 Cooke Scholarship
The Cooke Scholarship was introduced in early December, 2018. It's being given by The Friends of the Office of State Archaeology (FOSA), and is intended to encourage those students, majoring in archaeology at the MA or Ph. D. level, to do work in Connecticut archaeology. The scholarship is offered to undergraduate and graduate students working on Connecticut archaeological projects, and is open to students from schools both within and outside Connecticut. For more information on the Scholarship and an application form, please

> Click Scholarship Information for background information on the Cooke Scholarship.

> Click Cooke Scholarship Awardees to access a list of recipients of Cooke Scholarships.

For questions about the Cooke Scholarship, please email them to fosa.ct.scholarship@gmail.com.
---
Unless otherwise noted, all photos in this web site are by John Spaulding, FOSA Photographer (d. 2010).
Web contact: Jim Hall - jamesh52@comcast.net