ABOUT US

Responsibilities of the State Archaeologist

The Office of State Archaeology was established at the Connecticut State Museum of Natural History (CSMNH) in 1987 to provide technical assistance to municipalities in the preservation of archaeological sites within their communities that might be threatened by development and vandalism.

The OSA administers the state archaeology office at the Connecticut Archaeology Center. At this office, it maintains comprehensive site files and maps, has in-state networks of supportive public, conducts research into the state's archaeological sites, serves as a clearinghouse of information, coordinates the salvage of archaeological sites, and represents Connecticut on national issues pertaining to archaeology.

The OSA has state-mandated responsibilities for the preservation or archaeological excavation and reburial of human remains encountered during construction activities. In this regard, it works closely with the Native American tribes in our state for projects that affect burials and sacred sites; and the preservation of unmarked burials.

The OSA museum serves as the repository for all anthropological collections at the university and for artifacts found on state lands. In this role it has responsibility for the curating of Connecticut's archaeological / anthropological collections, totaling over 600,000 artifacts.

Finally, it works to create public awareness and support for archaeological preservation, including museum exhibits and a variety of public presentations and outreach activities. For example, recently (2017) OSA has begun working on setting up a program with the North Hartford Promise Zone, with which FOSA volunteers will participate.

In sum, OSA works closely with federal, state and local governments in the preservation of Connecticut's archaeological and historical heritage.


How the Friends of the Office of State Archaeology Help...

> Provide archaeological educational curricula and experiences to schools.

> Present and sponsor public lectures.

> Secure donations of office equipment, laboratory supplies, and field supplies for OSA.

> Coordinate and participate in volunteer OSA field and office activities.

> Help coordinate, organize and schedule activities for Connecticut's annual Archaeology Awareness Month.

> Assist scouts in earning archaeology merit badges.

> Create archaeological partnerships between local governments, students, and concerned citizens.

> Help increase corporate sponsorship of OSA-sponsored activities.

> Obtain grants and public funding for OSA collections management and office staff.

> Provide for scientific investigation and preservation of materials in OSA collections through the Douglas Jordan Testing, Dating & Conservation Fund. (For information on the Fund, please click Jordan Fund.)

• Of Note: There was an article in the July, 2013 issue of Ink Publications Online! describing activities at a dig site in Windsor, CT, which viewers who are interested in seeing FOSA "in action" might care to look at. If so, please click INK Article.

• And There are numerous articles in our FOSA Newsletters which detail how FOSA helps the State Archaeologist in doing his job, particular in the "News from the Office of State Archaeology" article on each issue's front page. The Newsletters can be found by clicking here.

FOSA Officers and Board of Directors


President:
Glenda Rose
Vice President:
(open)
Recording Secretary:
Scott Brady
Corresponding Secretary:
Sandy DiStefano
Treasurer:
Jim Trocchi
Assistant Treasurer:
(open)
Other Board Members:
Mike Cahill
Dave Colberg
Dreda Hendsey
Dick Hughes
Lori Kessel
Lucinda McWeeney
Jeremy Pilver
Mike Raber
Deanna Rhodes
Kathy Walburn
Ex Officio Members:
Dr. Sarah Sportman, CT State Archaeologist (OSA)
Dr. Nicholas Bellantoni, emeritus CT State Archaeologist
Dr. Janine Caira, Director, CSMNH
Lee West, ASC

FOSA Committees and Committee Members (as of March, 2022)


Archaeology Awareness Month Committee:
TBD (Chair), Jim Hall, Dick Hughes, Elliot Schawm, Kathy Walburn
Cooke Scholarship Committee:
Jeremy Pilver (Chair), Scott Brady, Lucinda McWeeney
Excavation Committee:
Jeremy Pilver (Chair), Scott Brady, Mike Cahill, Marlo Del Chiaro, Dick Hughes, Elizabeth Mark, Frederick Rivard, Jim Trocchi, Kathy Walburn, Lori Kessel (Dig Supervisor)
Membership:
Mike Raber (Chair), Sandy DiStefano (Corresponding Secretary)
Newsletter Committee:
Jerry Tolchin (Chair), Jim Trocchi
Nominations Committee:
Deanna Rhodes (Chair)
Outreach Committee:
Kathy Walburn (Chair), Bonnie Beatrice, Ken Beatrice
Volunteer Coordinator:
(open)
Website Committee:
Jim Hall (Chair), Jen Glaubius, Lindsay Kiesewetter
Questions on membership or functions should be directed to the Volunteer Coordinator at fosa.ct@gmail.com.

Connecticut State Archaeologist: Sarah Sportman, PhD



Sarah Sportman holds a B.A. in History from Union College (1999), an M.A. in History/Historical Archaeology from the University of Massachusetts Boston (2003), and a Ph.D. in Anthropology from the University of Connecticut (2011). She has worked as an archaeologist for 20 years, studying the archaeology and history of Euro-American and pre-colonial Native American groups in New England and New York. Sarah has worked in both cultural resource management and academia. For the last five-and-half (2020) years she held the position of Senior Archaeologist for AHS, Inc./PAST, Inc., working primarily on projects in Connecticut and Massachusetts.

Sarah's dissertation, Halcyon Days: The Historical Archaeology of Community and Identity at Hammondville, New York, 1870-1900, focused on daily life in a 19th-century company-owned mining village in the Adirondacks. Her primary research interests include Historic-period and Pre-contact Native American archaeology of the northeastern United States, zooarchaeology, ethnohistory, Colonial-period New England history, 19th century immigration and labor, and foodways.

To view Dr. Sportman's Curriculum Vitae, please click Sarah Sportman CV.


FOSA and Social Media

Social Media for FOSA encompasses applications such as Facebook, Twitter, Flickr and YouTube, where FOSA has established a presence for purposes of expanding its visibility, and where people -- both FOSA and non-FOSA -- are able to post commentary on things they see on our sites.
While FOSA will examine such postings, and reserves the right to remove those containing inappropriate language or words which are inflammatory, discriminatory, and so forth, other postings will remain unchanged. In cases where the posting is incorrect, though, FOSA will respond to the posting, explaining its position while leaving the original posting as-is.

FOSA members who are designated by the Board of Directors as such respondents must conform to a set of guidelines. A copy of these guidelines can be viewed by clicking: Social Media Guidelines.

Former Connecticut State Archaeologist: Brian D. Jones, PhD

Dr. Brian D. Jones served as the state archaeologist with the Connecticut State Museum of Natural History and Archaeology Center in the College of Liberal Arts & Sciences at the University of Connecticut (UConn). He was appointed to the position of CT State Archaeologist on July 18, 2014, following the retirement of Dr. Nicholas F. Bellantoni from that position. He served in that position until is passing in 2019.

As excerpted from the press release by the CT State Museum of Natural History announcing his appointment, Dr. Jones has been working in the archaeology field for over 24 years, most recently as Senior Archaeologist with Archaeological and Historical Services, Inc. in Storrs, Connecticut.

He received his undergraduate degree in Anthropology at Oberlin College in 1986. After living and traveling in Southeast Asia, he studied European prehistory at the University of Cologne, Germany. He returned to the U.S. in 1992 to complete his Ph.D. at UConn, Storrs. Brian was the Supervisor of Field Archaeology at the Mashantucket Pequot Reservation between 1998 and 2004, after which he worked at Archaeological and Historical Services. In 2008, he took the position of Associate Director of UMass Archaeological Services in Amherst. Brian has also taught as an adjunct in the Anthropology Department at UConn since 2004. His primary research focus is the archaeology of northeastern Native American cultures. His dissertation explored human adaptation to the changing climate at the end of the last Ice Age. He is also experienced in geoarchaeology (the relationship of archaeology to landscape and soil formation processes) and stone tool analysis.

As was the case with Dr. Bellantoni, the duties of the State Archaeologist are many, but primarily include the preservation of archaeological sites in the state. He serves as an Adjunct Associate Research Professor in the Department of Anthropology at UConn, as well as a State Commissioner for the Commission on Culture and Tourism and sits on the State Historic Preservation Council.

A list of Brian's papers and talks can be found at Brian Jones Info.



On July 4, 2019, Dr. Jones passed away unexpectedly. Newspaper articles regarding his passing can be found int the Newspaper Articles page of this website. His obituary can be found here.

A message from Scott Brady, FOSA President:

Inquiries have been made about honoring Brian's memory.

The best way to honor Brian is to perform a random act of kindness. Brian was an exceptionally kind and giving individual and always did for others. In his professional capacity he did this with OSA programming for underprivileged inner-city youth, his veterans field school and other activities. In his life he did this as naturally as breathing, in a hundred small gestures.

For those that would like to make a memorial donation, there are two suggested options:

> Brian had identified the American Indian College Fund, at https://collegefund.org/howtohelp/ as a charity of choice.

> The family has also set up the "Brian Jones Family Educational Fund" c/o Liberty Bank, 64 Oak Street, Glastonbury, CT 06033 to support educational expenses for his children, Tristan and Fiona. Donations may be mailed, dropped off at a Liberty Bank branch, or made via Paypal to jonesokeefe@gmail.com.


Emeritus Connecticut State Archaeologist: Nicholas F. Bellantoni, PhD

Dr. Nicholas F. Bellantoni is emeritus Connecticut State Archaeologist and an associate research professor in the Department of Anthropology in the University of Connecticut. He served as the state archaeologist with the Connecticut State Museum of Natural History and Archaeology Center in the College of Liberal Arts & Sciences at the University of Connecticut. He earned his BA in Anthropology at the Central Connecticut State University and his MA in Anthropology at University of Connecticut. He received his doctorate in Anthropology from UConn in 1987 and was shortly thereafter appointed state archaeologist. He retired from that position in 2014, being replaced by Dr. Brian D. Jones.

Nick is the co-author of "In Remembrance: Archaeology and Death" and has also contributed to journals such as the Journal of Forensic Science, Journal of Archaeological Science and to the American Journal of Physical Anthropology. He most recently has authored "The Long Journeys Home: The Repatriations of Henry 'Opukaha'ia and Albert Afraid of Hawk."

His duties included the preservation of archaeological sites in the state. He served as an Adjunct Associate Research Professor in the Department of Anthropology at UConn, as well as a State Commissioner for the Commission on Culture and Tourism and sat on the State Historic Preservation Council. At his retirement, he was President of the National Association of State Archeologists. He has also assisted state and local police departments with investigations involving the discoveries of unmarked graves and homicides. He assisted the New Haven Police Department when human skeletal remains were found during construction at Yale-New Haven Hospital and on the New Haven Green when Superstorm Sandy toppled the Lincoln Oak.

In addition, he participated in an extensive series of talks around the state, on subjects ranging from the archaeological history of Native American tribes for the past several thousand years, forensic archaeology, even garden archaeology; as well as field trips to various archaeological and geologic sites of interest. An engaging and popular speaker, he expects to continue to give talks (on a reduced schedule!) for the forseeable future; and they will be included on this web site's Upcoming Events page.

His research background includes the analysis of skeletal remains from eastern North America. He has been excavating in Connecticut for over 30 years.

To read an interview given by Dr. Bellantoni for the May, 2012 issue of Connecticut Magazine, which touches on his personal background, current responsibilities, and items of interest (archaeology vs Indiana Jones, his History Channel "Hitler's skull" trip and investigation, archaeology and forensic investigations, and "vampire" remains uncovered in Jewett City, among other items), please click Connecticut Magazine article.

To view an interview by Ann Nyberg of Channel 8 TV with Dr. Bellantoni in November, 2012, please click: Ann Nyberg Interview. Note: A high-speed internet connection is recommended.

Further, to view an interview of Nick in "UConn Today" about some of the highlights of his career, please click: UConn Today Interview.

Lastly, to read an interview with Nick by former FOSA President Mandy Ranslow, as a blog post on the Society of Historical Archaeology website, please click SHA_Blog_Interview.
Douglas F. Jordan, PhD

Douglas F. Jordan, who became Connecticut's first state archaeologist in 1963 and taught anthropology at the University of Connecticut, passed away on July 29, 2006, at the age of 80.

He was born and raised in Wakefield, MA, on the shore of Lake Quannapowitt. As a young man he served in World War II, laying communications line for the Army's 69th Division.

He attended Dartmouth College for his bachelor's degree and received his MA and PhD in anthropology from Harvard University. After working for the National Park Service and the Florida State Museum, in 1963 he started teaching at the University of Connecticut.

He was appointed State Archaeologist of Connecticut, curated the university's archaeological collections and ran the UConn summer field school during his nearly 25 year career in Connecticut.

He and Barbara Snow Miller were married in 1968.

Long after retiring he continued to do research on his academic specialization, primitive technology. He was a life-long student, inventor and tinkerer, engaging in pursuits such as cryptography, genealogy, electronics, woodworking and computer programming. For many, many years he split his time between Storrs, CT and his family's longtime summer retreat in Andover, NH.


Former FOSA President Mandy Ranslow

In late 2018, former FOSA President Mandy Ranslow announced that she had accepted a position at the Advisory Council on Historic Preservation (https://www.achp.gov), covering transportation projects, which will involve a relocation to Washington, DC. This has required her resignation from the FOSA Board.

Mandy joined FOSA in 1997, and served the organization in a variety of capacities. She became FOSA President in 2014 and retained that position until turning the gavel over to Scott Brady in 2018. Mandy was very active in the archaeological community, as the following sampling will illustrate:

> In 2017, the Connecticut Trust for Historic Preservation announced that Mandy had been selected to receive the 2017 Mimi Findlay Award for young preservationists, this while she was also serving as an archaeologist for the Connecticut Department of Transportation. For additional information on the award ceremony go to http://cttrust.org/, or click here for details from the Trust's Facebook page.

> There is also an article in the November 2013 blog post by the Society for Historical Archaeology's Public Education and Interpretation Committee by FOSA Board member Mandy Ranslow, on the work FOSA does to help the OSA. The post has been incorporated into the Reprints section of this website, and can be accessed by clicking SHA Blog.

> Lastly, Mandy is featured in an episode on the Archaeology Podcast Network, in which she describes FOSA and the many ways it helps the State Archaeologist do his job, both doing field excavation and lab work, as well as the types of training available to FOSA members. This podcast can be found by clicking the Mandy Ranslow Podcast . Click the

icon in the place where the "Avocational Archaeology - Episode 15" interview is described to begin the download and playing.

The FOSA Board of Directors and all members of FOSA itself who have been priviliged to know and work with her wish Mandy well in her new endeavor!


FOSA Membership Demographics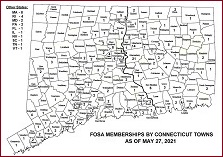 Have you ever wondered how many people are members of FOSA, and how they're distributed across this state? (Of course you have!) FOSA Board members Jim Hall and Mike Raber have prepared a state map showing our membership demographics by town.

The result, which is current as of May 27, 2021, can be accessed by clicking the map icon to the right.


Find A Town

In case you're one of those people who knows the names of many Connecticut's towns but has no idea where they are on a map of the state (say, for an excavation, presentation or meeting), we suggest you use the following method to quickly determine where it is...

> Find the Town name on the listing below, and note the 2-character code to its right.

> Scroll down to the map below the listing and use the code as a grid-locator to find the general location of the town.
If you're trying to locate a place which isn't on the list (say, Moosup), it's probably a village within a Town. To verify, open a Google session and input selection criteria Which CT town is Moosup in? to quickly find out. (It's in Plainfield.)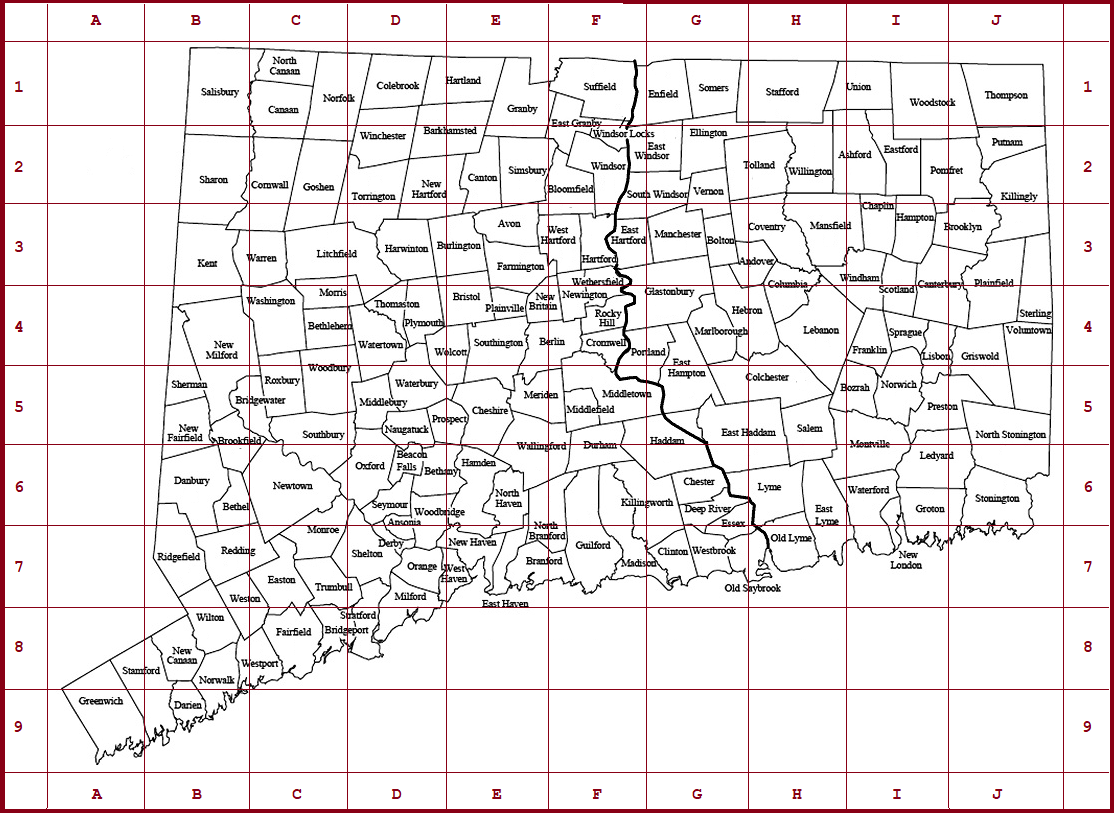 Smiles at the Memories

Over the years, FOSA members have contributed significant amounts of time, energy and money to help the State Archaeologists do their job in a professional manner. Which doesn't mean that we're an all-work/no play organization (though some might suspect otherwise). When the subject of "zany photographs" came up, former FOSA President Scott Brady opined that, "I like it we can be a serious organization and still have fun." Click here to see a sampling of these. Which will certainly be added to as time goes on.