PLEASE NOTE: The Archaeology Expo will be held on October 13, beginning at 10:00AM. It will be held at the
Mashantucket Pequot Museum and Research Center.

For details and directions, please access its entry on the "Upcoming Events" page by clicking Archaeology Expo.
HOME PAGE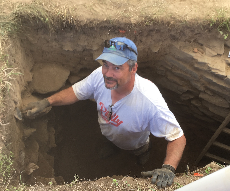 Friends of the Office of State Archaeology, Inc. (FOSA) is a volunteer not-for-profit organization formed in 1997. The organization was formed by people concerned about support for the Connecticut Office of State Archaeology (OSA), which has a minimal budget for staff other than the State Archaeologist's salary.

FOSA's mission is to enhance OSA efforts and help meet the numerous state-mandated responsibilities of the Office. Dedicated to supporting the efforts of the Office of State Archaeology (OSA), FOSA's mission is to help the OSA meet the office's numerous state-mandated responsibilities, and to enable the office to provide additional services to the state's towns, students, and other citizens.

FOSA meets these goals by:

> Developing and facilitating educational activities to increase public awareness of the OSA and archaeological issues in general.

> Encouraging participation by communities, institutions, corporations and individuals in supporting the mission of the OSA.

> Encouraging partnerships between OSA scientific research initiatives and local communities.

> Developing permanent sources of financial support and other public assistance for OSA efforts.


"The active participation of volunteer organizations, particularly FOSA, are critical to the ability of the Office of State Archaeology to accomplish its mission of preserving the rich archaeological heritage of the State of Connecticut. Their efforts are greatly appreciated."
- Brian Jones

. DID YOU KNOW...





These displays will change each day, with the entire group recycling at the start of the next month. If you can't wait, though, and want to see them all beginning with day-1, please click: DYK.
For More Info
To learn more about the responsibilities of the Office of State Archaeology, how FOSA helps in this endeavor, and for a biographical sketch of Brian Jones, please click the "About Us" link.


FOSA Brochure
To access a copy of the latest FOSA Brochure, for review or printing, please click Brochure.


Public Awareness
To read an article by former State Archaeologist Dr. Nicholas Bellantoni on the challenges facing archaeologists and archaeological sites, please click: Awareness Article.
Contact Us
For information or questions about the Friends of the Office of State Archaeology and its activities, please send an e-mail to:
fosa-ct@archaeologist.com by clicking

.
Join Us
To join the Friends of the Office of State Archaeology, please click



You can make a difference for FOSA, even if you're not a member, if you shop on Amazon.com. FOSA is a registered charity with Amazon's foundation, Amazon Smile. For qualified purchases, a portion of your purchase (.5%) will be donated to the Friends of the Office of State Archaeology, CT. You may register for this program at www.smile.amazon.com. Registration is free and you will pay the same purchase price for your items.
ASC Collaboration
Beginning September, 2009, FOSA and the Archaeological Society of Connecticut (ASC) have agreed to enter a closer association with each other, working collaboratively together in order to increase the public's awareness of Connecticut's archaeological past, in addition to our common aim of supporting the Office of State Archaeology.

While both organzations remain distinct, the presidents of each organization will be attending the other's Board meetings, members from each will be encouraged to attend the other's annual meetings, and charges for attendance at one organization's events will be the same for members of the other organization.

NOTE: In April, 2017, ASC webmaster Robyn Swan Filippone unexpectedly passed away. This has resulted in problems with the ongoing maintenance of the ASC website. We will, of course, assist in any way we can with getting the ASC website maintenance back up and running. Until such time as this happens, however, we will not be able to have a direct link to the ASC.

Among other things, Robyn's loss has meant that recent ASC Newsletters are unavailable on an ASC website. For the time being, we suggested to ASC Newsletter Editor Lee West that we could post those unavailable ASC Newsletters on the FOSA website, this as a courtesy to our sister organization; an offer which Lee agreed to with thanks.

As a result, the initial group of Newsletters is below. To access each Newsletter, please click its associated link.
ALSO: Back issues of the ASC Bulletins from 1934 through 2014 have been scanned and made available online to the public, by clicking ASC Bulletin Archives.



Unless otherwise noted, all photos in this web site are by John Spaulding, FOSA Photographer
Web contact: Jim Hall - jamesh52@comcast.net