<!>




UPCOMING EVENTS

Of Interest to FOSA Members and the General Public




Note: At various times, you may find reference made to hikes given by the State Archaeologist in the list below.
To get an idea of what these are like, please access our YouTube Videos page.

~ ~ ~ ~ ~ ~ ~ ~ ~ ~ ~ ~ ~ ~ ~ ~ ~ ~ ~ ~ ~ ~ ~ ~ ~ ~ ~ ~ ~ ~ ~ ~ ~

• Archaeology Field School for Kids (part of K.A.S.E.T. - Kids Are Scientists & Engineers Too)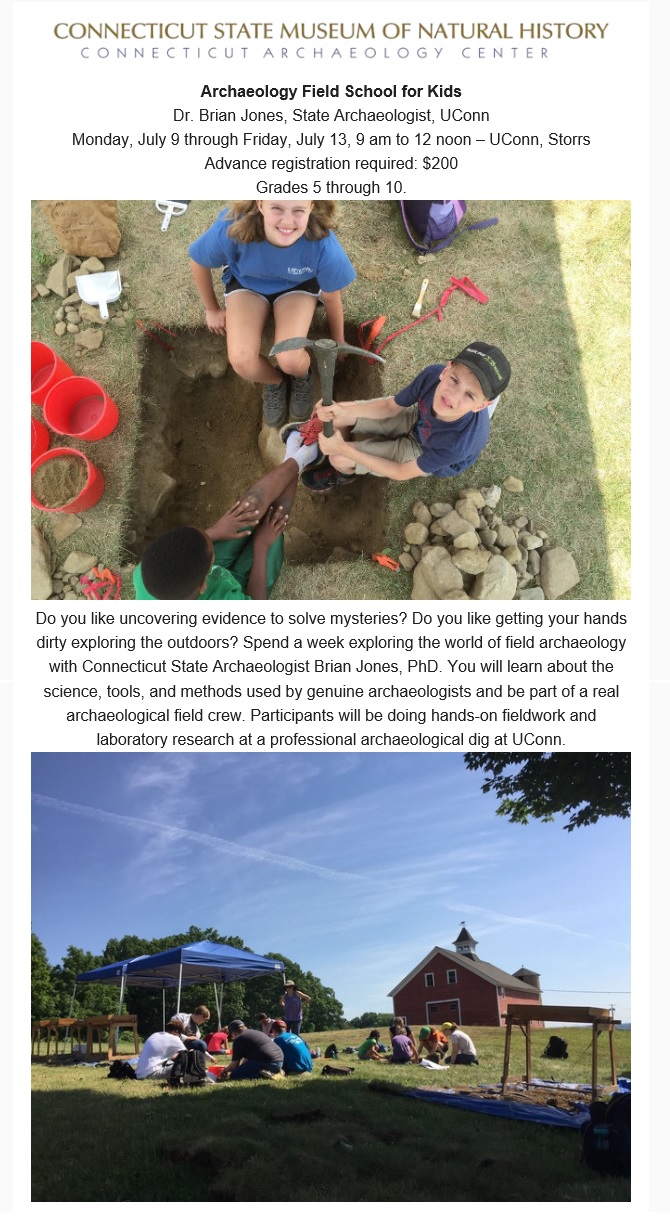 When: Monday, June 29 thru Friday, July 3 9:00AM-12:00 noon
Where: University of Connecticut, Storrs CT (details to be provided to registrants)
What: Do you like uncovering evidence to solve mysteries? Do you like the idea of getting your hands dirty while exploring the past? Spend a week with UConn archaeologists exploring the world of field archaeology. You will learn about the science, tools, and methods used by genuine archaeologists and be part of a real archaeological field crew! Participants will be doing hands-on fieldwork and laboratory research at a professional, ongoing archaeological dig. We have been opening new areas of our on-campus dig site each year, and every session we uncover something new!
> Advance registration through K.A.S.E.T. required ($200)
> Call 860-486-8115. (For online registration, please click kaset.uconn.edu/
> For other K.A.S.E.T. programs, please click Workshop Descriptions.
> FOSA Members: Graduate Student Zac Singer has requested FOSA volunteers to assist with the program. Hours of the excavation are from 9 am to noon each day and volunteers will be helping with screening and paperwork. If you are interested in participating on any of the scheduled dates, please contact Zac at zaclsinger@gmail.com.
• The Historical Society of Glastonbury Presents: "Annual Archaeology Day"

When: Friday, July 17 10:00 AM - 3:00 PM
Where: Welles-Shipman-Ward House, 972 Main Street (Rte 17), South Glastonbury, CT
What: Valuable historical information can be gathered by exploring the swill (or rubbish as we call it today) of our founding colonial ancestors. On Friday, July 17th from 10:00 a.m.-3:00 p.m., the Historical Society of Glastonbury invites all persons of the ages twelve and up, to join CT State Archaeologist Dr. Brian Jones at an authentic archaeological dig.
Thousands of years ago, Native Americans spent their summers camped along the "Great River" (or the Connecticut River as we know it) fishing, farming, and gathering wild fruits. We will work in South Glastonbury near the Connecticut River at the site of one of these former Native American summer camps. As a guest archaeologist you'll work with and learn from Dr. Jones, working with him and his team as they demonstrate the basic techniques for identifying and preparing a dig site, conducting an actual dig, sifting through your finds and examining and cataloging your finds. Artifacts you may come across could include remnants of meat they ate, implements they made and used, items received in trade from European settlers, just to name a few items. This is not staged. The items you may (or may not) find will be authentic artifacts from the people who lived in the home throughout the years.
> Space is limited and reservations are required.
> Registration: Students are $10, others $15.
> Bring snacks and a lunch and be sure to wear closed shoes.
> To Register: Phone 860-633-6890.
> For additional information: See the Historical Society of Glastonbury web site, at http://www.hsgct.org/ArchaeologyDay.html.
• Archaeological Field School in the Litchfield Hills


When: Monday, July 13 10:00AM-3:00PM thru Friday, July 17 10:00AM-3:00PM
Where: An active excavation site in Litchfield County (details to be provided to registrants)
What: The field school site, which has been excavated for the past several years under the leadership of archaeologist Dr. Lucianne Lavin (Director of Research and Collections at the IAIS* Museum) and several other experts in the field, is producing artifacts that date as early as 4,200 years ago. For anyone with an interest in Connecticut's prehistoric archaeology, this non-accredited field school will teach the basics of mapping, excavation techniques, artifact identification, and the documentation process.
*IAIS = Institute for American Indian Studies
> Call the IAIS Museum at 860-868-0518 to make a reservation. Registration is limited to 15 persons.
> Fee: $100.00 for IAIS members or $150.00 for nonmembers.
> Students under age 13 are welcome to participate with adult supervision.
• FOSA Summer Field School (FOSA Members Only)


When: Monday, July 20 10:00AM -3:00PM (approx.) thru Friday, July 24 10:00AM-3:00PM (approx.)
Where: An excavation in Windsor (details provided to FOSA attendees)
What: FOSA members are invited to take part in the 2015 FOSA Summer Field School. Participants must be prepared to walk 1.25 miles to the site and will be expected to organize their own lunch and water. Long sleeves, long pants, sturdy gloves and bug repellent are strongly recommended. FOSA members can come for one or more days, but should email Kathy Walburn at kwalburn@snet.net with their expected schedule so we can plan appropriately. This is an exceptional learning opportunity that Dr. Jones hopes many FOSA member elect to take part in.
For non-FOSA individuals: If you would like to join FOSA and participate, please contact Kathy Walburn (above) for information on how to do so.
For FOSA members: Please see the email which was sent out on June 19 for details; or, contact Kathy Walburn (above).
• 2015 Archaeology Fair


When: Saturday, October 17
Where: Central Connecticut State University, New Britain, CT
What: Details to follow.
- - - OTHER - - -
• "History Channel: MysteryQuest: Hitler's Escape with Dr. Nick Bellantoni"

When: repeated at various times during 2015.
check your local listings!
Where: History Channel
What: Former CT State Archaeologist Nick Bellantoni was requested by the History Channel to travel to both Germany and Moscow to study the remains which are said to be those of Adolph Hitler. It was a tremendous adventure for Dr. Bellantoni; and good reviews for UConn as well. Watch the History Channel to hear the whole story!
OTHER GROUPS' UPCOMING EVENTS
• Archaeological Society of Connecticut (click the "ASC" button in the "... Events" section of the ASC home page)

• Conference on New England Archaeology.

• CT Archaeology Center / Office of State Archaeology .

• Connecticut Gravestone Network.

• Connecticut State Museum of Natural History.

• Ellington Historical Society.

• Friends of Center Cemetery

• Friends of Hammonassett.

• Institute for American Indian Studies.

• Litchfield Hills Archaeology Club.

• Madison Historical Society

• Museum of Connecticut Glass

• Scranton Memorial Library