UPCOMING EVENTS

Of Interest to FOSA Members and the General Public
Note: At various times, you may find reference made to hikes given by the State Archaeologist in the list below.
To get an idea of what these are like, please access our YouTube Videos page.
~ ~ ~ ~ ~ ~ ~ ~ ~ ~ ~ ~ ~ ~ ~ ~ ~ ~ ~ ~ ~ ~ ~ ~ ~ ~ ~ ~ ~ ~ ~ ~ ~
• Hammonasset Beach First Day Hike and Geology & Artifacts Open House




When: Sunday January 1, 2017 1:00PM
Where: Farmington High School Auditorium, 10 Monteith Drive, Farmington, CT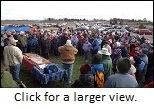 What: As part of the America's State Parks First Day Hike program, the Meigs Point Nature Center at Hammonasset Beach State Park is hosting a one-hour hike on New Year's Day, January 1st, at 1PM. Led by two outdoor enthusiasts, the hike through Meigs Point trails will include searching for wintering birds and seals, while enjoying the fresh air and natural beauty of the Park. Binoculars are suggested for enhanced viewing opportunities.

• Also on January 1st from 11AM to 2PM, Gary Nolf and Don Rankin from the Friends of the Office of State Archaeology, will conduct an Open House in the new Meigs Point Nature Center, displaying and discussing locally-discovered Native American artifacts.  People are invited to bring in their own artifacts for interpretation and comments.  At noon, prior to the hike, in the Nature Center classroom, Gary and Don will deliver a half-hour presentation on the geology of Hammonasset Beach State Park and how Native Americans transitioned from hunter gatherers to eventually farming the area over the 1,000 years or so.  The primitive hunting instrument, the atlatl, will be discussed and demonstrated as well.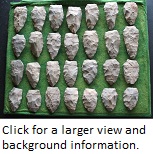 • Individuals planning to participate in the First Day Hike should arrive at least 15 minutes before start time, bring water, and dress appropriately for forecasted weather and conditions, in warm clothing, adequate footwear, hats and gloves.

• Hikers will meet at the new Meigs Point Nature Center building. The hike will depart on time at 1PM and return to the starting point. Anticipate wintry conditions; trails may be icy in spots. Hikers participate at their own risk! No dogs permitted on the hike.

> The event is free and open to the public. Entrance to the Park and parking are free.
> Refreshments will be available in the Nature Center.
> For additional information call 203-245-8743.
> Please Note: Dogs are not permitted on the hike.
• FOSA 2017 Annual Meeting



When: Saturday March 25, 2017 starts at 1:00PM (business meeting starts at 1:00 PM)
snow date: Sunday, March 26, same times.
Where: Farmington High School, 10 Montieth Drive, Farmington, CT The 2017 Annual Meeting will be highlighted by the presence of Professor Emerson "Tad" Baker, who teaches History at Salem State University of Salem, MA. His talk will focus in part on the Chadbourne Site (ca. 1643-1690) in South Berwick, Maine, where thirteen seasons of excavations revealed over 40,000 artifacts, including saw mill hardware, a range of tools, and many luxury items imported by the Chadbournes, the wealthy merchants who owned the property.
Who is Emerson Baker? Emerson "Tad" Baker is a professor of History and former dean of the Graduate School at Salem State University. He is the award-winning author of many works on the history and archaeology of early New England, including The Devil of Great Island: Witchcraft and Conflict in Early New England, and most recently A Storm of Witchcraft: The Salem Trials and the American Experience. He has been an advisor for PBS-TV's "The American Experience", and an on-camera expert for the PBS series "Colonial House". He is a member of the Gallows Hill Team who recently confirmed the execution site of the Salem witch trials, work that Archaeology magazine just named as one of its top ten discoveries of 2016. (Webmaster's Note: You can access the article on this discovery by clicking here.) Professor Baker regularly tweets on early New England history at @EmersonWBaker.
> To view the Annual Meeting Flyer, which includes a description of Prof. Baker's talk, please click Flyer.
> To view Professor Baker's Facebook page, please click Facebook.
Admission: General Admission - $10.00; Non-Farmington Students with ID - $5.00; FOSA, ASC, CSMNH, Farmington students & faculty admitted free with ID.
Directions:
> From I-84 East or West:
1) Take Exit 39, proceed west on Route 4/Farmington Avenue for 3.9 miles, crossing Route 10 at about 1.5 miles.
2) Approximately 2.4 miles past Route 10, turn right on Monteith Drive.
3) Drive past Town Hall at right, to Farmington High School at top of hill. Follow signs to parking and auditorium.
> From Route 4 East
Drive 1.25 miles east of Route 177, turn left on Monteith Drive.
Follow step 3 directions above.
If inclement weather: FOSA will post a notice on WTIC (AM 1080) by 10:30 AM.
- - - OTHER - - -
• "History Channel: MysteryQuest: Hitler's Escape with Dr. Nick Bellantoni"

When: repeated at various times during 2016. Check your local listings!
Where: History Channel
What: Former CT State Archaeologist Nick Bellantoni was requested by the History Channel to travel to both Germany and Moscow to study the remains which are said to be those of Adolph Hitler. It was a tremendous adventure for Dr. Bellantoni; and good reviews for UConn as well. Watch the History Channel to hear the whole story!
• "Travel Channel: Mysteries At the Museum on Griswold Vampire Case

When: repeated at various times during 2016. Check your local listings!
Where: Travel Channel
What: The "Griswold Vampire Case" began with the uncovering of 29 graves in an abandoned cemetery set in a now-eroding rock pit. In one of the graves the bones had been rearranged, following an exhumation of the deceased. Looking into this more deeply, Nick became involved in vampire legends which existed in eastern Connecticut and western Rhode Island, especially in the late-18th to late 19th centuries. It turned out that these kinds of exhumations and bone-rearrangings were an attempt by people whose families were being devastated by tuberculosis, who trying to save their families using beliefs and methods originating from eastern Europe.
For additional information: Do a Google search on "vampires" to find items on this within this web site, including a video of a talk given by Nick at Quinnipiac University in 2013 and a book, Food For the Dead, in which additional background information is provided.
OTHER GROUPS' UPCOMING EVENTS
• Archaeological Society of Connecticut

• Conference on New England Archaeology

• CT Archaeology Center / Office of State Archaeology

• Connecticut Gravestone Network (Facebook)

• Connecticut State Museum of Natural History

• Ellington Historical Society

• Friends of Center Cemetery

• Friends of Hammonassett

• Historical Society of Glastonbury

• Institute for American Indian Studies

• Litchfield Hills Archaeology Club

• Madison Historical Society

• Museum of Connecticut Glass

• Scranton Memorial Library