BRIAN JONES: October 24, 1963 – July 4, 2019
by Tess Vrbin
extracted from his July 9, 2019 obituary in the Hartford Courant
Brian Jones was the kind of person who would pull over and help a turtle cross the road so it would not get run over by a car, recalled Margaret O'Keefe, his wife of 22 years.

"People always say what a kind and gentle person somebody is, but he truly was," she said.

Jones, Connecticut's state archaeologist, died at home in Glastonbury on July 4. He was 55 years old. Jones had finished chemotherapy for prostate cancer in January and had a nearly clean bill of health in February, but the cancer returned in late May.

"He was comfortable, and we were glad he could be at home instead of in a hospital," she said. "It was as peaceful a process as it could be."

Jones grew up in Glastonbury and graduated from Glastonbury High School in 1982. In addition to his archaeology career, he was an assistant extension professor of anthropology at UConn, where he received his Ph.D. in 1998. One of his top priorities was the archaeology of Connecticut in the 17th century, according to his faculty page on the UConn anthropology department website.

An archaeological dig in late 2018 revived a debate about which town was Connecticut's oldest between Wethersfield and Windsor, but Jones said at the time that a Dutch trading post in Hartford predated both towns.

Before he went into hospice care, he was set to advise and chaperone 15 Connecticut high school students on a trip to the French village of Seicheprey this month, where they will restore a section of World War I trenches that soldiers from Connecticut occupied.

He loved sharing knowledge about anything he felt passionately about, and he was a mentor to more people than just his students, O'Keefe said.

"He had the ability to make things understandable to any member of the public," she said. "He wasn't always using scientific jargon because he wanted to make that world accessible to anybody who was interested."

He was appointed state archaeologist in 2014 and previously worked in contract archaeology, surveying state-funded and federally funded construction sites for historic or prehistoric significance before workers can build anything there.

Jones' interests outside archaeology included martial arts, home brewing and playing drums, according to his obituary. He had a third-degree black belt in tae kwon do and also studied tai chi and aikido. He had been a drummer since elementary school and "played on and off in various rock bands," O'Keefe said.

He was also an avid traveler, spending six months in Dublin as an undergraduate at Oberlin College and nine months traveling in Asia after finishing his bachelor's degree. He then lived in Germany for three years and completed some graduate studies there before returning to the United States and starting his Ph.D. in 1992.

Jones and O'Keefe traveled often with their two children, Tristan and Fiona, to countries including Mexico, Ireland and Canada. O'Keefe said she and her husband went to Mexico by themselves in March, their last vacation together.
---
Dr. Brian Denis Jones: 1963 – 2019
In Remembrance
By Scott Brady
On July 4, 2019, Connecticut State Archaeologist Dr. Brian D. Jones died of cancer surrounded by his family. Brian's death is a great loss to the archaeological community and a devastating loss to his colleagues, friends and most importantly his beloved family.

I first met Brian when he became the State Archeologist in 2014. Brian was quick to realize that many of his responsibilities consisted of team activities, even if the other team member simply held the end of the measuring tape. Fortunately for me, I had the prerequisites Brian was looking for: lots of free time, works for free and capable of holding the end of the tape. So began five years of archaeological adventures across the state. Brian quickly cycled through being my boss, colleague and friend to become like a brother to me. I think our friendship was accelerated by the fact that Brian and I spent much of our childhoods exploring the woods, streams and marshes on opposite sides of the Connecticut River, separated by only a few miles.

Having had a front row seat from his first days as State Archaeologist, I can say that Brian hit the ground running. He quickly fell into the critical role of overseeing the impact development would have on archaeological sites. His diplomacy and affable demeanor created an atmosphere where developer accommodations that protected significant sites were the rule rather than the exception.

Brian believed outreach and education regarding archaeology, and the stories it can tell, was a core responsibility of his job. He continued with existing programming while adding new programs aimed at reaching underserved communities. He was particularly committed to the Ebony Horsewomen Kids program, which serves children living in Hartford's most impoverished neighborhood, as well as his Vet's Field School, designed to provide a free field school experience to active duty and retired military personnel.

Brian excelled at the administrative functions of his office, but at heart Brian was a "dirt" archaeologist. There was nothing he liked better than being in the field. Brian served as supervising archaeologist on many rescue/salvage, outreach and research excavations during his tenure. He prioritized working with students and volunteers to improve excavation techniques and site documentation. He was always generous with his time and knowledge, so much so that he seldom was able to actually "do" archaeology. Often times, on a site set-up day or a hastily added "wrap up" day, Brian and I would be the only two working on a site. That was when his passion for the work of archaeology stood out. Setting the grid, digging a test pit, drawing a profile, it didn't matter. He was doing what he loved and he was happy, no matter how mundane the task.

Brian told people that his position as State Archaeologist was his dream job and it showed in his extraordinary dedication. He felt so strongly about his responsibilities that he continued meeting with colleagues well after he was on leave and in hospice care. In the days before his death, he outlined continuity plans for OSA, provided a list of research goals for the 2019 Hollister excavations, arranged for the repair of OSA land surveying equipment and ensured images of a recently concluded Phase-I walkover were shared on the OSA Facebook page.

Brian leaves an incredibly strong professional legacy. The number of important sites he has worked on and his extensive writings will be studied by future generations of archaeologists.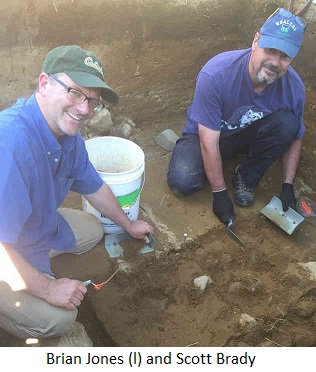 However, there was much more to Brian than just being an archaeologist and I would be remiss to not mention Brian the human being.

Brian and I shared many conversations during the long drives as we traveled to sites across the state. It was incredibly obvious that for Brian, family was everything. He wore his love for them on his sleeve, especially for this wife, Margaret, and children, Tristan and Fiona. He displayed an exceptional generosity and kindness towards everyone and everything, often saving turtles, snakes and salamanders. The only time I saw Brian dislike anything was when we came across Asiatic Bittersweet Vine, which he truly detested and which he would chop, tear down and uproot with passion.

Brian was a true renaissance man: archaeologist, musician, brewer, martial artist, and much more. He had a childlike fascination regarding the world around him, which sadly most of us "mature" out of, but with the intelligence of a highly educated adult. He loved learning and sought out new opportunities to do so. When Brian was invited to participate in Digging Into History's student field school excavating the World War I trenches of Seicheprey, France, his casual reply was, "I need to learn French." And I'm confident he did.

The thing I admired most about Brian was how content he was. Contentment is defined as a state of peaceful happiness, a fitting adjective in describing Brian. He was exceptionally comfortable with his place in the world and the path he was on. He enjoyed the small pleasures life brings and was not discouraged with its challenges. His outlook on life was refreshing and contagious. In the days since his death, I have been amazed at the number of people who have told me that Brian made them better – a better archaeologist, a better student, a better teacher and, the most repeated refrain, a better person. Such a rare gift to impact the lives of so many.

There is a difference between being alive and living. Brian lived! He crammed more adventures, experiences and love into the years he had than most of us do with many more.

I hope you will read his self-authored eulogy elsewhere in this newsletter [see below] and be as touched as I was with his humility and grace. I hope you will take his message with you. I hope you will be inspired to be a better person. I know I will. If I had one more opportunity to speak to my friend Brian, I would correct one point from his eulogy and tell him that we were the lucky ones for having had him in our lives.

Rest easy, Brian.
---
Eulogy for Brian Denis Jones
Written by Brian
Sadly, Connecticut State Archaeologist, PhD Brian Denis Jones, passed away on July 4, 2019. Amazingly, he wrote his own eulogy with outstanding words and thoughts for all of us to remember. We thank Brian's family for permission in allowing FOSA to print it. At the "Celebrating of the Life of Brian Jones" on August 4, 2019, it was read by Brian's close friend Mark Carr.
I am a lucky man. I am lucky that I had the chance to explore so much of the world with people I love. I am lucky to have met a beautiful, loving woman who was happy to marry me. I am lucky that I have two beautiful, intelligent, creative and wise children.

I am lucky to have a lived a long life under the caring eye of my parents. I am lucky to have two incredibly loving sisters and to have had the time to watch their children mature into wonderful young adults. I am lucky to have enjoyed the best career in the world and that I am blessed with so many amazing colleagues.

I am lucky to have been Connecticut's State Archeologist for five years. How many of us get our dream job and then love it as much as we had hoped to?

So if you find yourself thinking life was unfair to Brian, stop a moment and remember that I was such a lucky man.

I am also lucky to have this time to let you know how I feel about dying. At services I have been to I usually feel like this is one piece of information that gets left out. So often people don't have a chance to share those ideas. In my case, I do. Between my travels and studies as an anthropologist I can say with some conviction that I am an Animist at heart, meaning I recognize a world filled with myriad spirits be they in the stones, trees, insects or animals that share this world with us. This is a vibrant, glowing world that we seldom take the time to truly feel in our hearts -- but it is more than that. All things carry part of this universal spirit and even-tually, whether stone or fruit fly, return to the universal spirit-ocean.

Many of us wonder about past lives, and for the curious, if you believe in old souls and do the math, every person living could have had 14 past lives. But this speculative path leaves to the dogma of reincarnation and karma that are fundamentally moralistic, and as such are removed from more ancient experiential wisdom. While not inherently animistic, the highest Buddhist doctrines rather emphasize the non-existence of an "ego-identity, a personality, a being, or a separated individuality." So instead I must believe we simply return to the spirit ocean – our fundamental reality – and I take joy and find peace in that.

Finally, one need not be dying to appreciate the utter joy and grace of going about one's normal day, but I ask you to remember to do this every day. Enjoy your good company, enjoy your "normal" health, take a moment to look at the sky and trees and say, "I am so lucky to live on this beautiful planet." And love each other with conviction rather than get caught up with petty concerns. Take advantage of the time given you, and you will have as much beauty and love and luck as I have.

Addendum: Margaret Jones, Brian's wife has asked to have the following words added:

Brian's family, my children and I have been overwhelmed with (and extremely grateful for) the outpouring of support for us. I also want to thank those who have donated to either of the college funds. If the donors address was available to me, I have made every effort to send out personal thank you notes, but if I've inadvertently missed anyone, please know how very, very grateful we are.

While the loss of Brian has left gaping holes in our hearts and our lives, knowing that his memory is carried by so many who loved him makes a huge difference as we struggle to move forward. Knowing Brian made us better people, and that influence is reinforced in the eulogy that he wrote.

My one request is the same that Brian asks for in his eulogy: that you strive to live as he did, pouring yourself into whatever you are doing, sharing your knowledge and your zest for life, and most importantly, being kind to all living things.

Thank you,
Margaret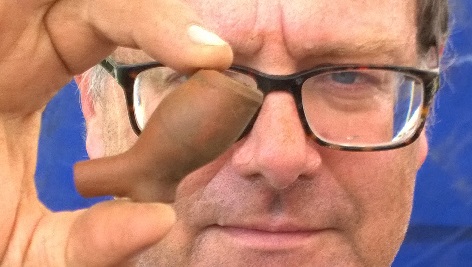 ---
BRIAN JONES: REMEMBRANCES

Readers are invited to add their thoughts.
Please forward them to webmaster Jim Hall at jamesh52@comcast.net